"72% of London Cab drivers discuss the weather with their passengers"

Olafer Eliasson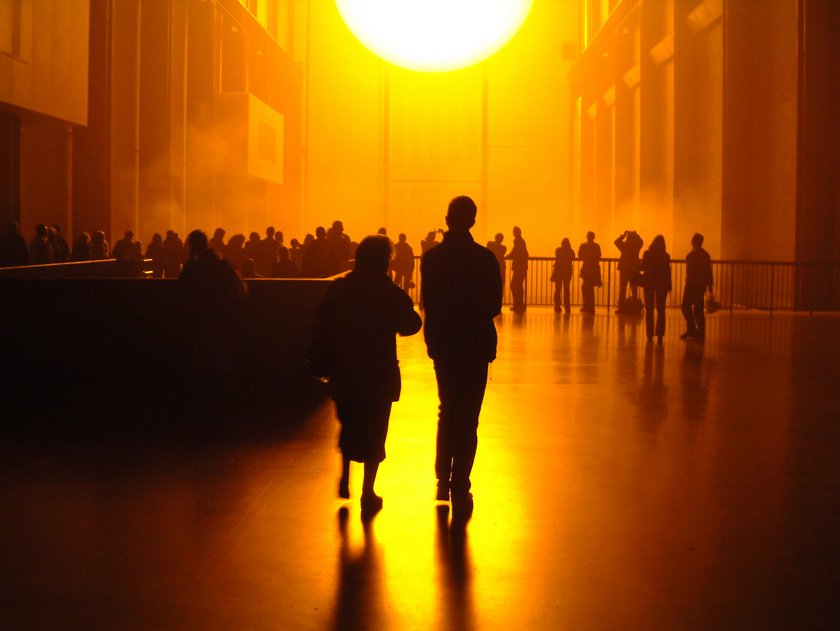 The subject of the weather has long shaped the content of everyday conversation. The eighteenth-century writer Samuel Johnson famously remarked 'It is commonly observed, that when two Englishmen meet, their first talk is of the weather; they are in haste to tell each other, what each must already know, that it is hot or cold, bright or cloudy, windy or calm.' In The Weather Project, the fourth in the annual Unilever Series of commissions for the Turbine Hall, Olafur Eliasson takes this ubiquitous subject as the basis for exploring ideas about experience, mediation and representation.
us subject as the basis for exploring ideas about experience, mediation and representation.
In this installation, The Weather Project, representations of the sun and sky dominate the expanse of the Turbine Hall. A fine mist permeates the space, as if creeping in from the environment outside. Throughout the day, the mist accumulates into faint, cloud-like formations, before dissipating across the space. A glance overhead, to see where the mist might escape, reveals that the ceiling of the Turbine Hall has disappeared, replaced by a reflection of the space below. At the far end of the hall is a giant semi-circular form made up of hundreds of mono-frequency lamps. The arc repeated in the mirror overhead produces a sphere of dazzling radiance linking the real space with the reflection. Generally used in street lighting, mono-frequency lamps emit light at such a narrow frequency that colours other than yellow and black are invisible, thus transforming the visual field around the sun into a vast duotone landscape.
The weather has been so fundamental to shaping our society that one can argue that every aspect of life – economical, political, technical, cultural, emotional – is linked to or derived from it. Over the centuries, defending ourselves from the weather has proved even more important than protecting ourselves from each other in the form of war and violence. If you cannot withstand the weather, you cannot survive.